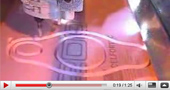 Our CNC Videos page features several videos of our ShopBot cutting wood, metal, plastic and more.
Video / Studio - Professional Video For Emerging Businesses & Artists
Promote Yourself
| | |
| --- | --- |
| Video can express things that words and pictures cannot. Engage your audience and promote yourself with a professional quality video. | |
Create A Virtual Set
| | |
| --- | --- |
| With a virtual set, you can appear almost anywhere without having to leave the studio. Whether you want to appear as though you standing on a 30-storey building or doing a stand-up routine on a comedy stage, the task is simple using our green screen. | |
Interact with Animated Characters
| | |
| --- | --- |
| Watch animated characters come to life on the screen. You can interact with a wide variety of characters and objects and appear to interact with them using our unique tools and software. | |
Props Available
We have tons of props available, click here for a list. Please contact us.
Muilti Axis Layout and Positioning for Virtual Sets and Props - Current

Our new 3-axis digital display and laser grid systemallows precise positioning of cameras and talent into virtual sets and scenes. We can work with any 3D software system to integrate your real and virtual worlds and allow accurate interaction between real and virtual worlds.

Development of Motion Control System and Control Software - Current

We are in the final stages of designing and building the software for a 5-axis camera carrier. This sytem allows integration of live actors with animated characters and enviroments. We are currently seeking development partners. Call us for a demonstration.

Here a 3D object is being 'exploded'. The individual polygons are placed flat on the X-Y plane to export into CNC software for cutting and assembly of the object at any scale or material required.
A full newsroom set is available.