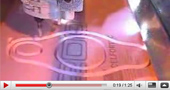 Our CNC Videos page features several videos of our ShopBot cutting wood, metal, plastic and more.
ShuttleSpace Software
We are pleased to announce that our new software is ready for BETA testing.
The purpose for our software is to duplicate accurately, X,Y,Z positions between the real and virtual worlds. Video and content developers can also use the software as a 3D story board and lighting planner. The software can be used with a basic grid mapped onto a studio floor, or a full 3D matrix to accurately position camera, objects, lighting with shadows or characters - all real or virtual. The only requirement is a "zero" point.
Other possible uses for SSVR:
- Scene previews
- Lighting and shadow previews
- Camera and F.O.V. planning
- 3D Story boarding
We are seeking BETA testers and test projects. If you are interested, contact us.